About Food Is Medicine @ Tufts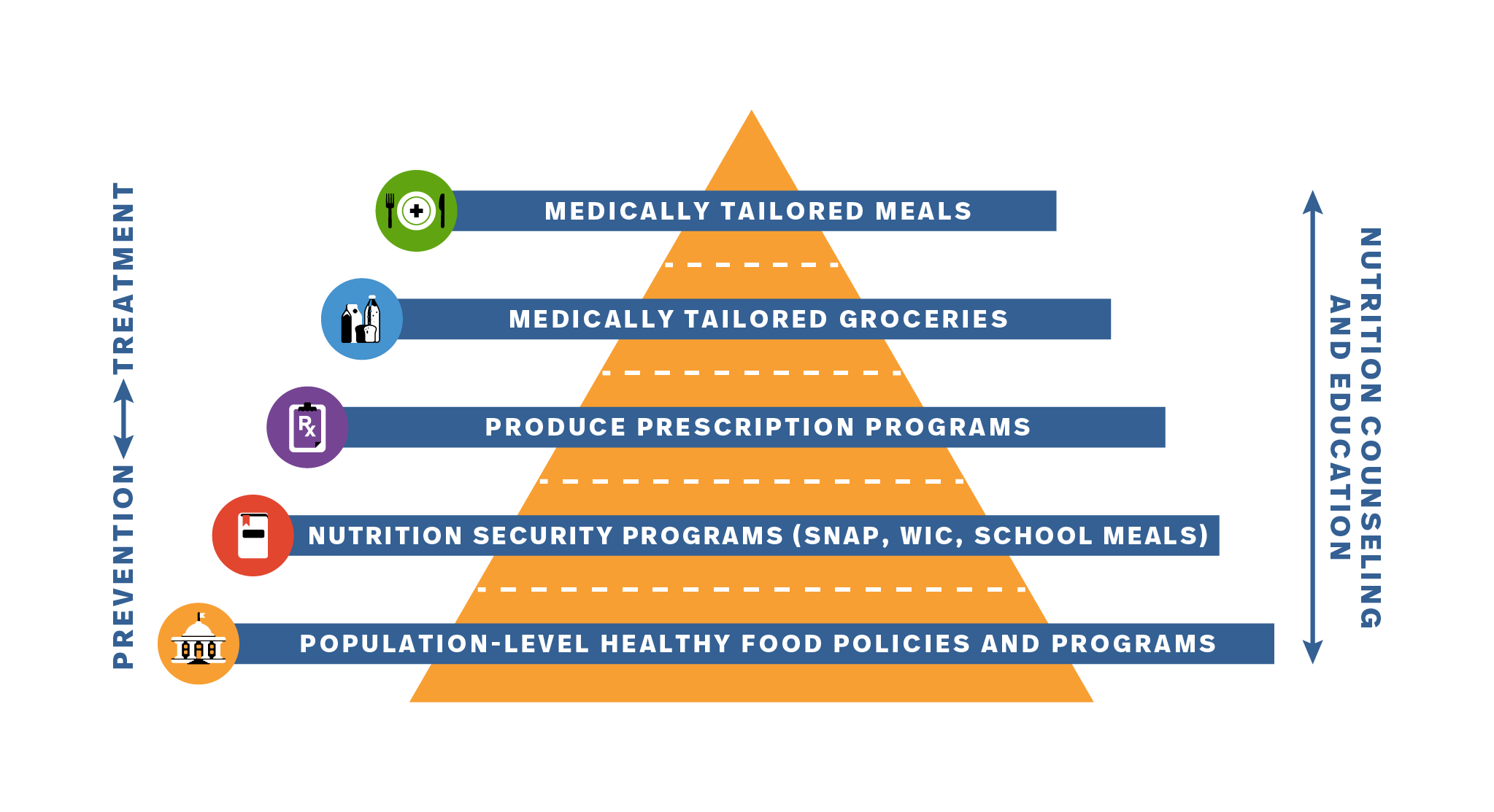 Food Is Medicine (FIM) interventions reflect the critical link between nutrition and health, integrated into health care delivery. These include programs that provide nutritionally relevant food, free of charge or at a discount, to support disease management, disease prevention, or optimal health, linked to the health care system as part of a patient's treatment plan.
FIM interventions should not be conflated with social determinants of health (SDOH). SDOH — like housing, transportation, income, and food security — reflect broader societal challenges that influence health.
The health care system can identify and refer patients to appropriate external resources to help deal with SDOH, but may not play a primary role in addressing these social issues. In contrast, poor nutrition is a leading, direct determinant of health – and as such is appropriately addressed by the healthcare system, similar to smoking, poor mental health, and substance abuse. FIM interventions also often reflect effective treatment, rather than long-term prevention, of diet-related conditions.
Learn more about FIM in this fact sheet.
The Food is Medicine Institute at the Friedman School of Nutrition Science and Policy at Tufts University
The Tufts Food is Medicine Institute is a new, cross-university collaborative effort based at the Friedman School of Nutrition Science and Policy, bringing together experts from across the university with other local and national partners to advance research, training, patient care, and community engagement around food is medicine. Tufts is already the leading academic institution globally for advancing FIM, with multiple large FIM interventional trials in partnership with health care systems, extensive policy and comparative effectiveness analysis, and more. This first-of-its-kind Institute will serve as a catalyst to drive change, improve health, reduce health disparities, and create a more equitable and resilient healthcare system that recognizes the power of nourishing food.
The FIMI envisions a world where consumption of nutritious food is recognized as a fundamental component of health and health care and where all people and communities have the knowledge, resources, and support to achieve optimal health and health equity through nourishing food
NETWORKING AND COLLABORATION
The FIMI will look to administer a network of collaborative efforts to implement, evaluate, and integrate food-based nutritional interventions and education to promote health, well-being, and health equity through innovative research, training, patient care, policy development, and community engagement. This collaboration will serve as a local and national catalyst to drive change, improve health, reduce health disparities, and create a more equitable and resilient healthcare system that recognizes the power of food as medicine. More information is forthcoming.
Interventions like medically tailored meals, medically tailored groceries, and produce prescriptions, in combination with nutrition and culinary education, integration of other nutrition security programs (e.g., SNAP, WIC, school meals, meals on wheels), and consideration of cultural relevance.
Integration of FIM into electronic health care records and care flow.
Interdisciplinary nutrition education and training for healthcare professionals, emphasizing FIM interventions and integrating cognitive learning theory, digital education, and relevance to diverse populations.
Development of appropriate FIM quality metrics and reimbursement pathways.
FIM policy analysis, evidence synthesis, and advocacy.
Community, private sector, and public health engagement around FIM programs and supportive policies and practices (e.g., education, economic mobility).
Learn more about the experts and researchers from the Food is Medicine Institute who are leading this work.